The History of the Fremont Casino in Las Vegas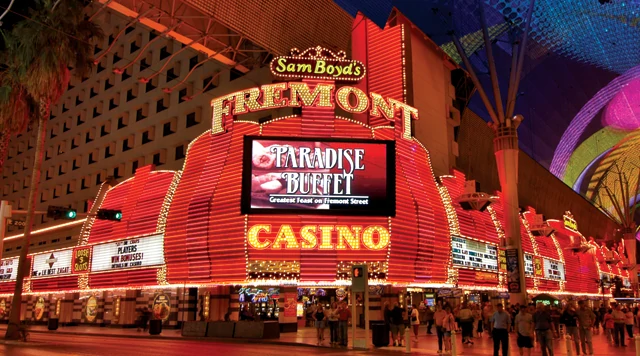 The Fremont Hotel & Casino is one of Las Vegas' oldest casinos, having opened its doors in 1955 and gone through several transformations since then.
At present, The Fremont is in the midst of a $55 million expansion that includes a new food court. We've got all of the details on several restaurants set to open within this space, such as Steak 'n Shake, Huey Magoo's and Roli Roti.
The Fremont Hotel
In 1956, The Fremont Hotel opened as Nevada's first high-rise hotel – ushering in a new era of modernity and breaking away from the western theme that had previously dominated downtown Las Vegas. It served as a sign that an exciting new era was upon us, marked by modernity.
At this time, the United States government was conducting above-ground nuclear tests at a proving ground 65 miles north of Las Vegas. Downtown casinos took advantage of the publicity and began serving "Atomic Cocktails" at rooftop parties as guests watched distant mushroom clouds rise above their heads. These festivities continued until 1962 when all testing was ordered underground by President Johnson.
The Fiesta Room
The Fiesta Room at Fremont Casino was one of the earliest downtown Las Vegas hotels to attract major name entertainment. Here, Kay Starr, Country Western artists, and Tiny Tim performed.
The room provided a selection of drinks and meals. It was here that Jerry Newton and Wayne Newton made their debut performances.
Today, this property is a 3-star hotel that provides rooms with free WiFi and four restaurants. It's conveniently situated next to the Golden Nugget Casino and within 10 minutes walking distance to other popular attractions in Las Vegas, making it an ideal option for those seeking a more localized area to stay.
The Sky Room
In 1963, The Sky Room at Fremont Casino opened its 14-story addition on July 17th – becoming the first of its kind in Nevada and offering guests an unobstructed view of the valley below.
In 1969, the room was demolished and replaced by a parking structure, roof-top pool, and other amenities.
This 447-room hotel in Las Vegas is a classic Las Vegas property with bright lights and exciting casino action. While not close to the Strip, it's far enough away from rowdy nightlife that it makes an ideal choice for travelers wanting to experience "old" Vegas.
The Carnivale Lounge
The Carnivale Lounge was the first hotel lounge in Las Vegas to draw major name entertainment. Here, Wayne Newton made his Vegas debut and Jerry and Kay Starr also performed.
Fremont Street Experience provides several great options for live entertainment. Concerts are frequently held on one of two stages under Viva Vision canopy, featuring stunning visual displays every night.
Experience a thrilling zipline view of downtown from 114 feet in the air with SlotZilla Zipline! This must-do attraction should not be missed when visiting Chicago!
The Roof-Top Pool
For travelers who want to relax in the sun, the rooftop pool is an ideal destination. It boasts stunning views of Las Vegas' skyline and provides plenty of opportunities for socializing.
When traveling with kids, hotel pools provide entertainment for the whole family and a chance for everyone to unwind. Fortunately, several hotels in Fremont Street – Downtown Las Vegas offer swimming pools for both families and adults to enjoy.
Budget-minded travelers looking for a pool-equipped stay should check out the Downtown Grand Casino and Hotel. This downtown Las Vegas hotel boasts comfortable accommodations as well as an urban aesthetic filled with art.
The Signage
The Fremont Casino features striking signage that wraps around two sides of its property. It has a red theme with reader boards placed throughout and columns of light bulbs in the bullnose at one corner.
This property is situated on Fremont Street in Las Vegas, near the Golden Nugget and Binion's Gambling Hall.
Boyd Gaming owns this building, which opened in 1956 and was the tallest building in Nevada at that time. Boyd Gaming acquired it in 1983, and now serves as part of Fremont Street Experience with its barrel vault canopy that can host hourly shows.